Staff & Services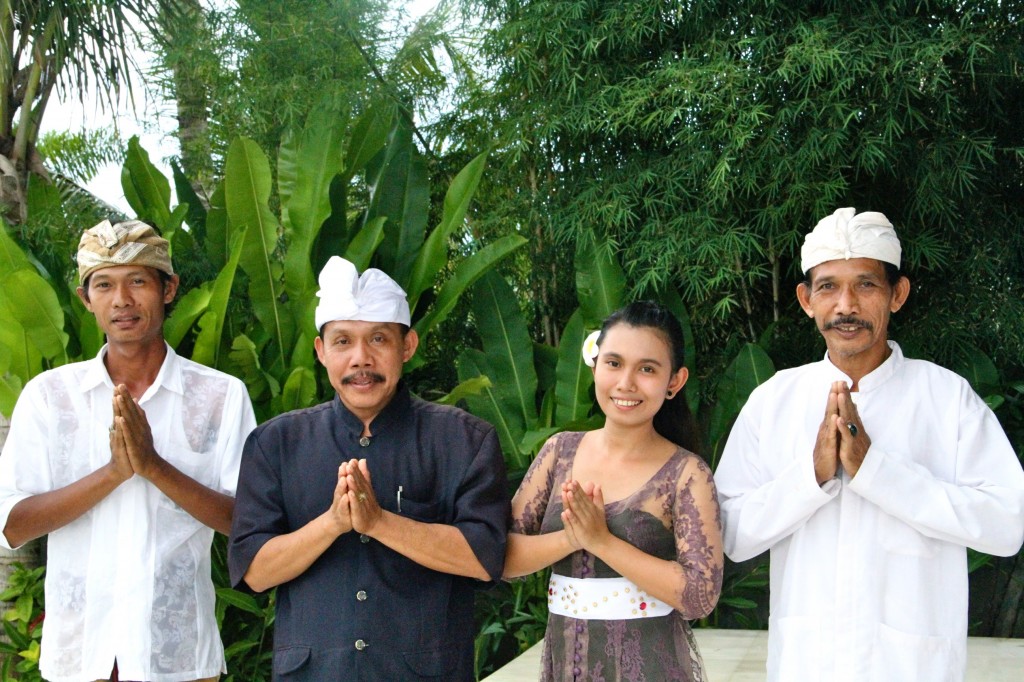 The Villa Aparna includes the following permanent staff:
Sudapta, the cook
Desi, the housekeeper
Nyoman, the security guard
Satriasa, the gardener
Meals
Breakfast is included in the rental price as well as the first lunch or dinner on arrival. Breakfast includes tea, coffee, milk, toasts, butter, local jam, eggs and choice of juice or fruits. Sudapta will also cook for you pancakes, biscuits, cakes..
For lunches and dinners, Sudapta can cook  your preferred recipes (with a bit of your help) unless you prefer cooking by yourself. A menu suggestion (international and indonesian)  is available and the cook will be happy to take care of the day to day shopping. Payment of the food for meals except breakfast will need to be done by cash and daily against receipts. A wine cellar with different wines is at your disposal, payment to be made in cash at check-out. Mineral water is at guests disposal at all time.
Staff working hours
The cook and the housekeeper will be as flexible as possible but will not be able to stay at the guests disposal from early morning to late evening. It is advisable to agree with them upon arrival about your preferences. Staff will be provided everyday of your stay, except when they need to attend a religious ceremony.
The night guard will be on site every night from 8pm to 7am. The gardener starts at 7am and takes care of the garden and the pool.
Ketut, the villa manager
He will welcome you on your arrival at the villa and will explain the working rules of the staff and how to use the equipments. He will give you all necessary information about your stay, including recommendations of activities and good places.
He will also take a copy of your passport for the police declaration and tourist tax (50,000 rupies per stay per person = about US$ 5 per stay to pay cash).
He is available at any time in case of emergency.
Gusti, the driver
Transfers from and to airport are included in the rental whatever the number of guests. If you decide to take our driver, Gusti will wait for you at the airport and will also drive you back.  His recent car (Suzuki APV) can take a maximum of 4 persons with luggages and 7 persons without luggages. For groups of 5 guests or more, Villa Aparna will give you the choice of a larger car (up to 9 people) or 2 APV cars. If exceptionally Gusti was not available for transfers or for day tours, another English speaking replacement driver will be provided.
For day or half day trips, you will need to book him in advance and pay him directly.
For local visits, it is also great to rent a scooter for a very low price (about 50,000 rupies / day – but be aware this price is without insurance) which you can book directly at the villa. You can also rent a car without driver for about Rps 180.000 per day.
Amy for Massage and Beauty treatments
Indulge yourself with body treatments! Massage can be provided at the villa, on the massage bed located on the second floor terrace facing the sea. The staff will provide you with all necessary information about Amy and her sister Putu, especially about all the beauty treatment services they can offer such as facials, mani/pedi…